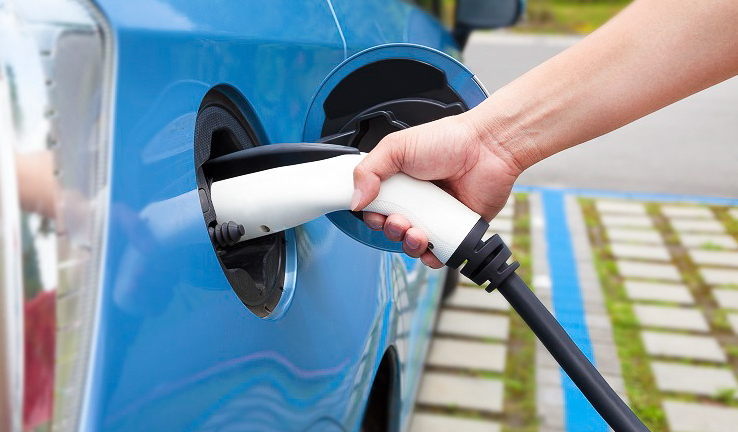 Charging your EV at home and on-the-go is easy.
Charging is easier than you probably think. Most EV drivers charge at home because it's cheap and convenient. For travelers, on-street parkers, and people who live in multi-unit housing, public charging is increasingly available, especially in workplaces; you might be surprised to learn that there's charging near you that you haven't noticed!
Sign up for our EV deals
Range and charging speed
There are five things you should know about range and charging: three that impact how far you can go in your electric vehicle (EV) and two that impact how quickly you can charge.
What impacts how far I can go?
The battery: EV battery size is measured in kilowatt-hours (kWh). The more kWh capacity your car's battery has, the farther you can go between charges.
The efficiency: Different EV models drive a different number of miles for every kWh of battery capacity. The vehicle's battery size and efficiency together determine its range, along with driving conditions.
The weather: The temperature and weather conditions will impact your EV's range (the colder it gets, the shorter the range), but EVs can handle whatever a New England winter can throw at them. The EPA's rating on miles per charge is a good number for a year-round basis. Most of the year, you will get more than the rating. Learn more on our Winter Driving page.
What impacts how fast I can charge?
The onboard charger: Your car will have an onboard charger. Its capacity, measured in kilowatts (kW), affects your charging speed. The more kW, the faster the charge!
The charging level: There are three levels of EV charging. In increasing level of speed, they are: Level I, Level II, and DC Fast Charging.
Although charging an EV is a bit different from refueling a conventional vehicle, choosing to drive a BEV or PHEV does not require a substantial change in lifestyle. There is a variety of electric sedans, SUVs, and even mini-vans to help reduce your gasoline-use without compromising your space or performance, and there are more options every year. That means you can commute, go to the grocery store, and travel just like you always have, while dramatically reducing your carbon emissions.
The biggest change you'll experience when you drive electric? You'll make fewer trips to the gas station, if you need to go at all. Charging your all-electric or plug-in hybrid car at home is as easy as charging your cell phone. Just plug it in overnight or when you get home, and you'll have it fully-charged and ready to go in the morning – it's more convenient than stopping to refuel at the gas station. When you are away from home, you may learn that there more charging stations than you are aware of now. Furthermore, National Grid and Eversource will be building many more over the next five years. A major fine levied on Volkswagen is also going to help pay for many new charging stations. Overall, charging is easier than you might think now and it will get easier.
Charging levels
There are three levels of charging available for EVs today: Level I, Level II, and DC Fast Charging.
Level I
Level I charging simply requires a 120 volt outlet. All electric vehicles come equipped with a cord that you can plug into a common outlet. A Level I charge uses the J1772 charging port and will typically add 4 miles of range for every hour spent charging.
Level II
Level II charging requires a 240 volt outlet and a charging unit. You can purchase a Level II unit online and install it in your home with the help of a licensed electrician. There are also many publicly available Level II units. A Level II charge uses the J1772 charging port and will typically add 10 to 25 miles of range for every hour spent charging (the actual speed depends upon the capacity of the charger built into your EV).
DC Fast Charging
DC (Direct Current) Fast Charging is the fastest charging available for passenger cars (other than Tesla). It is increasingly available along major highways and intended for longer trips. American and European manufacturers use the J1772 combo (otherwise known as CCS DCFC or SAE Combo) and Asian manufacturers use the CHAdeMO. Not all DC Fast Charging stations will have plugs for each type of charging port. As a result, you must make sure the DC Fast Charging station you visit has the correct plug to match up with the charging port on your vehicle.
Here's a summary of the important things to know about each charging level.
Level I
Level II
DC Fast Charging
Voltage
120
240
208/480 three-phase input
Charging speed
~4 miles/hr
~10-25 miles/hr*
60-90 miles/30 min*
Charging port
J1772
J1772
J1772 combo (also known as CCS DCFC or SAE Combo) or CHAdeMO
Can I install one in my home?
You don't need to! Just use a normal 120 volt outlet and the charging cord that comes with your EV.
Yes (may require adding a 240 volt line if your home does not already have one)
No
Are there units publicly available?
Yes (See Charging on the go.)
Yes (See Charging on the go.)
Yes (See Charging on the go.)
Is an additional charging port required on the vehicle?
No
No
Yes (standard on some vehicles, additional package on others )
*Depending on your onboard charger capacity, battery size, and current battery charge level.
Charging equipment
The charger: The charger is built into the electric vehicle. The charging port accepts electricity from an outside source and stores it in the vehicle's battery. There are different types of charging ports, which becomes very important when we talk about DC Fast Charging. Here are four of the more common options:
Electric Vehicle Supply Equipment (EVSE)
The EVSE is the machine with the cord that you plug into your onboard charger. The plug on the EVSE must match up with the charging port on the vehicle. All vehicles come equipped with a cord that will plug into a normal wall outlet for a "trickle charge". More on this below!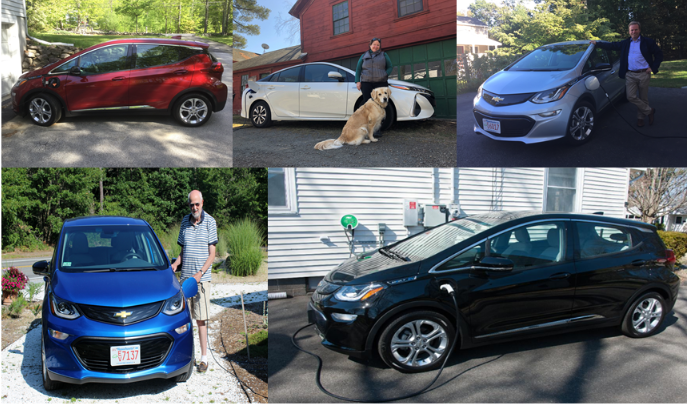 You can install EVSE in your garage and plug in as soon as you get home. You can also install EVSE on an exterior wall to charge outside.
Charging at home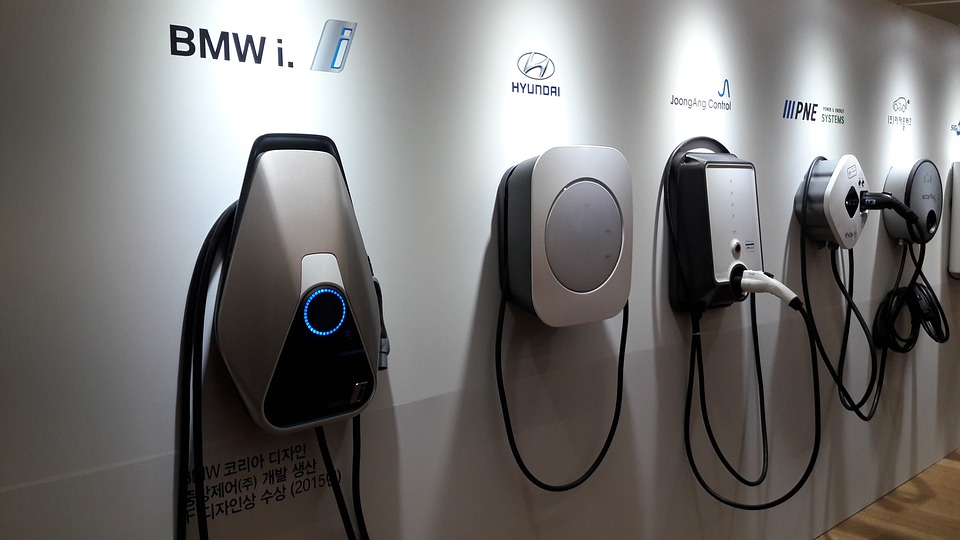 A Guide to Installing EV Charging at Home
If you're thinking about installing a Level II charging unit at home, it can be tricky to know where to start. We've written a guide to walk you through the process and make it as easy as possible for you to transition from gasoline to electricity. Check it out to get help with...
Determining your charging needs
Picking a charging station
Preparing your home's electrical system for installation
Download the guide here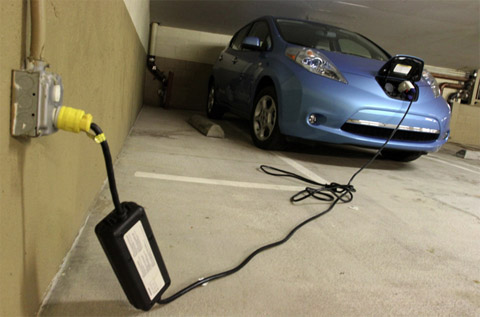 Level I Charging
Use a normal outlet
~4 miles of range per hour
Generally, EV drivers charge their vehicle at home. For most people, this is very easy. The EVs in our program come with a charging unit that you can plug into a 120 volt outlet (common in every home). Hopefully, you have such an outdoor outlet in your garage or on the side of your house next to the driveway.
Together, your 120 volt outlet and the car's standard charging unit will make your home a "Level I Charging Station."

Level II Charging
Install a charging unit
10-25 miles of range per hour*
Many drivers are satisfied with Level I charging, but installing a 240 volt charging unit for your home can help make driving an EV a little more practical if you drive a lot. Level II charging stations are installed by licensed electricians, and they cost a few hundred dollars, plus the cost of the electrician's time. A retroactive federal tax credit program can help you cover 30% of the total cost of installation of your charging station if you bought it in 2018 or 2019, or if you plan on doing so in 2020. Learn more here.
If you're ready to install a Level II charging unit and are looking for a local electrician, we can help! We have a network of licensed and insured electricians with experience installing EV charging units.
Check out electricians in your area here!
Here are three additional resources that can help get you started on the process of installing a home charger.
Alternatively, you could look into a portable Level II charger. Green Car Reports has a great article explaining the pros and cons.
Charging on the go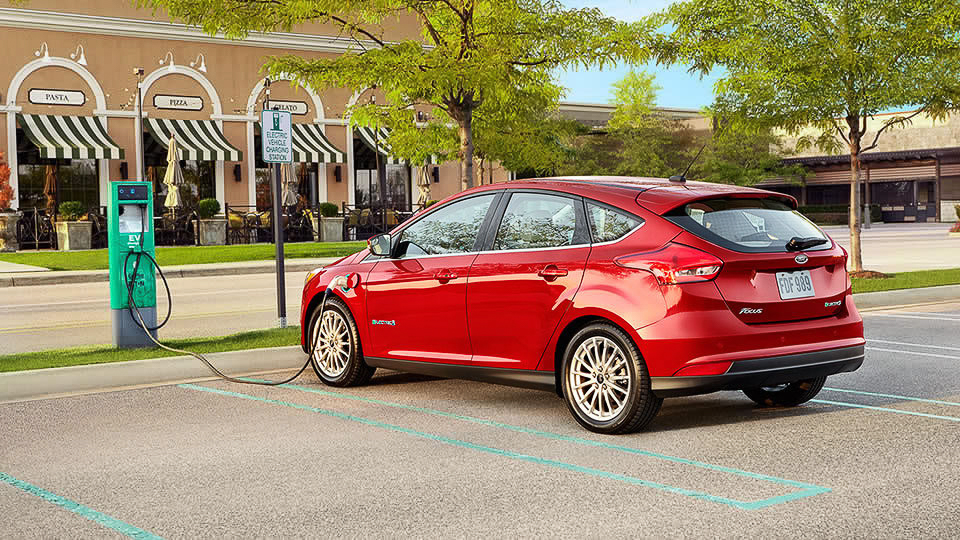 Public Level I and Level II Charging
When you are away from home, you can access an increasing number of public charging stations. It's easy to find these stations with cell phone apps and some new EVs come with these apps right on the dashboard display.
Plus, there are several websites to help you find charging stations near your home or workplace:
You can also ask your employer about workplace charging and encourage them to take advantage of federal and Massachusetts state incentives and programs.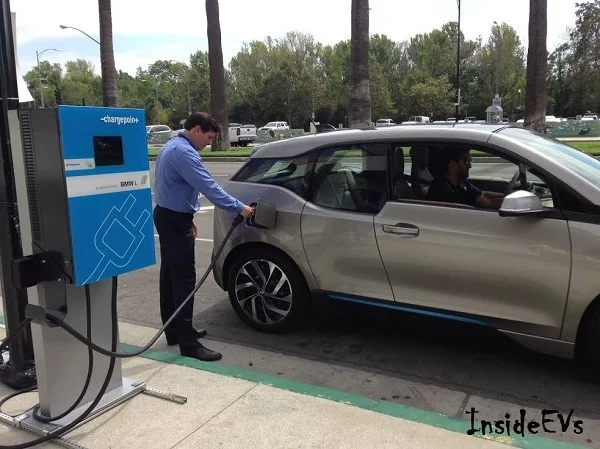 Public DC Fast Charging
50-150 miles per 30 min
This charging option is capable of adding significant range to an EV in not much longer than the time it takes to fill a gas tank. The charging speed depends on the power capacity of the charging station and the vehicle.
Most modern EVs can be equipped with DC quick charge capability via an additional charging port on your onboard charger. Some come with a DC Fast Charging port automatically and some require you to purchase a special package.
Find a DC Fast Charging unit near you. Remember, DC Fast Charging stations have different plugs. Make sure the station you're visiting corresponds to your car. Learn more here.
We know drivers are concerned about where EVs can charge other than at home. Massachusetts and Rhode Island have more public stations than most people realize. And more are getting built all the time. We recommend this "Ultimate Guide to Electric Car Charging Networks" from plugincars.com to get a feel for your options.
Below is an interactive map from PlugShare: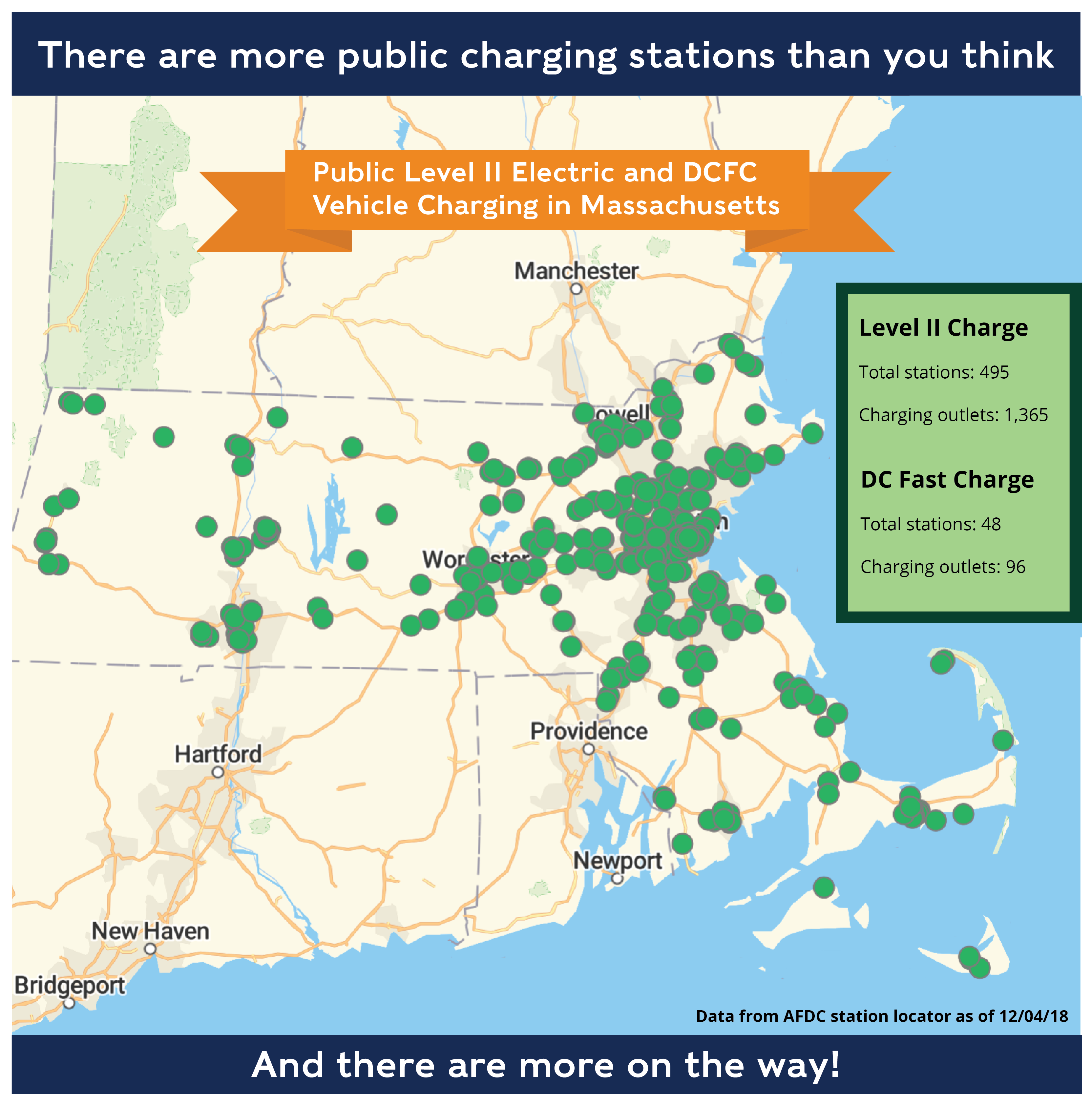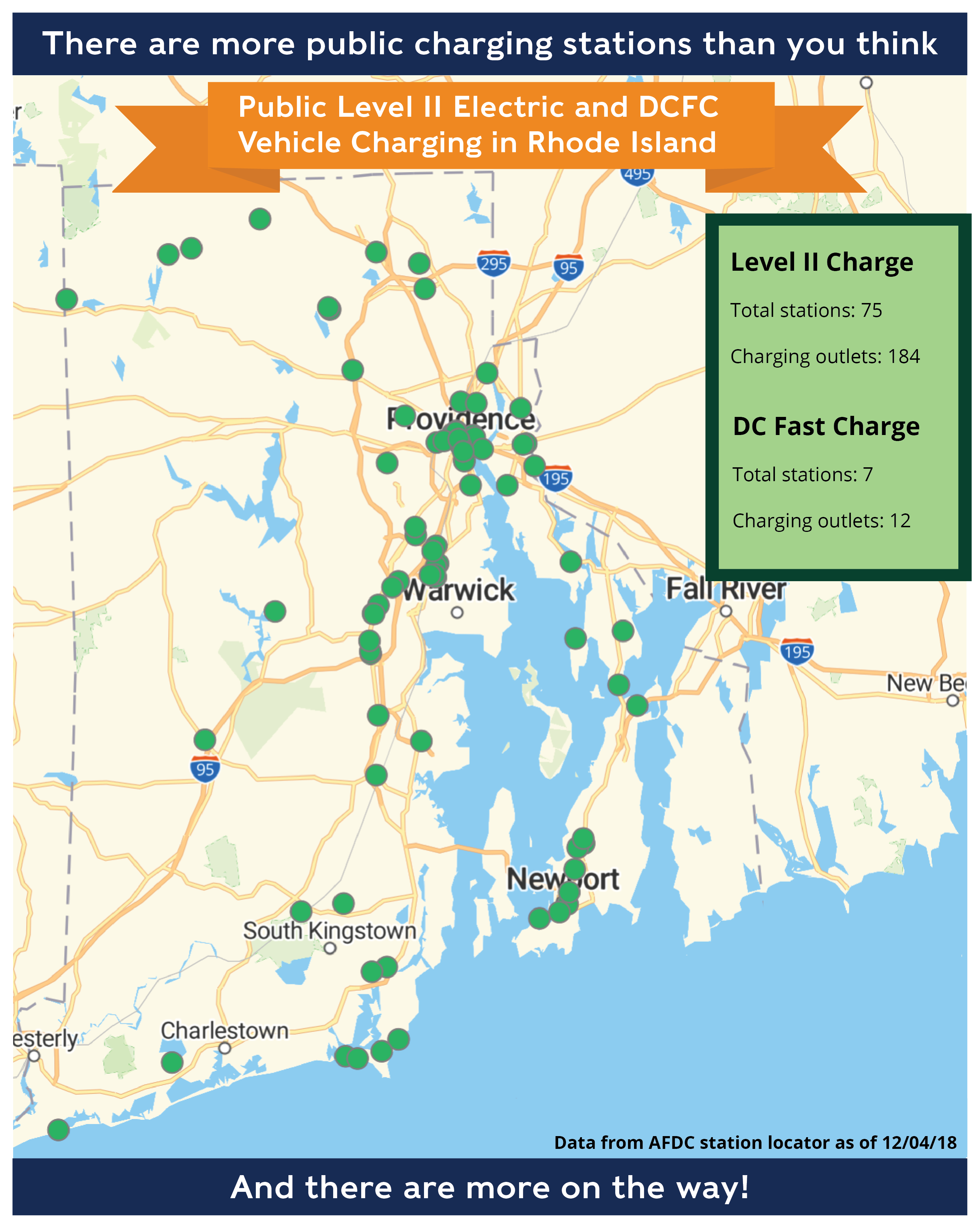 There are more apps and websites that can help you find a public charging station near you. Refer to the box at the top of this section to see our list of recommended sources. It's easy to charge when you're on the go!
Battery Health
Although they are a relatively new technology, the batteries inside electric vehicles are designed for maximum performance and lifespan. According to data analysis from over 6,000 electric vehicles, batteries show "high levels of sustained health." That means the battery pack in a given electric car is likely to outlast the useful life of the vehicle itself.
Electric vehicles also come with warranties that would protect you in the (unlikely) case that you purchase a vehicle with a faulty battery. The warranty usually covers 8 years or 100,000 miles of driving, but be sure to read the fine print when you purchase to determine your coverage.
Like any machine, batteries decline in performance as they age. Notably though, heavily-driven vehicles don't show faster rates of degradation than lightly used ones, so you should feel free to take advantage of the full range of your vehicle on your commute or long road trips. The biggest factor affecting a battery's long-term health is actually heat exposure. You can learn more about this process and get tips on how to extend the life of your vehicle here.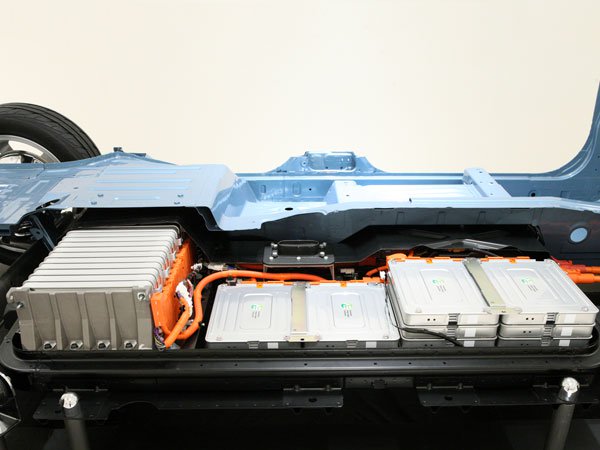 EV Battery Degradation Comparison Tool
Geotab, a fleet management company that advises drivers on the transition from gas-powered cars to electric cars, has crunched the numbers to compare long-term battery health among different electric models. Use their EV Battery Degradation Comparison tool to see how your electric car is likely to perform after 6 years of use.
Compare EV battery health
Everything you need to know about EV charging