Buying a car is a big investment. Buying an electric car is no different. Now that the electric vehicle (EV) market is not so new, the cost of an electric car is more comparable to that of a gas-powered car. This page will tell you what you need to know about buying - and leasing - electric cars.
New Cars
The price of the average new car in the US reached $44,360 in Q1 2022. There are a whole range of EVs that sell under that MSRP. Here are just a few.
Historically, the reason EVs have cost more than gas-powered cars has to do with the cost of manufacturing the lithium-ion batteries that EVs rely on. EV costs have come down significantly since the first-generation vehicles because battery costs have declined. Bloomberg New Energy Finance keeps track of this decline and anticipates that EVs and gas-powered cars will reach cost parity for sedans and SUVs in 2026 for the US.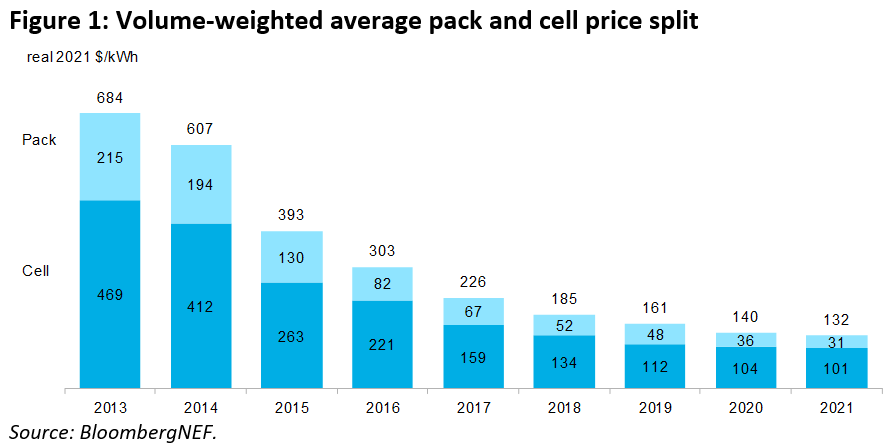 Of course, there are other great options out there that cost more than the average new gas-powered car like the Toyota RAV4 Prime ($39,800 MSRP), Ford Mach-E ($43,895 MSRP), VW ID.4 ($40,760 MSRP) and more. Even though these vehicles cost more than the average gas car, the federal and state incentives bring down those costs, and they enjoy the same fuel and maintenance savings of all EVs. 
On the luxury market, there is of course Tesla, but also the Audi e-tron ($65,900 MSRP), Volvo XC40 Recharge ($51,700 MSRP), Porsche Taycan ($84,050), and the Jaguar I-PACE ($69,900 MSRP).  
More and more vehicle models are coming on the market all the time! 
Used Cars
New cars are great, but pre-owned EVs are just as good. The electric pre-owned market is getting better and better every year. Pre-owned cars are more affordable and can offer great electric range! Drive Green has written a whole page touting the benefits of pre-owned electric cars and explaining what to look out for when shopping for one here. 
Check out the pre-owned section of the Electric Car Shopping Tool to find the best option for you.
Incentives
The federal tax credit is a great resource when buying an electric car. It allows consumers to take up to $7,500 off the price of the vehicle. To get the federal tax credit, you first have to acquire the vehicle and then wait until the next tax season to file for the tax credit. It is important to note that the federal tax credit is dependent upon both your personal tax liability and the size of the car's battery. To check out the tax incentive for specific cars, look here. Another caveat is that manufacturers are allowed 200,000 units before the federal tax credit starts to phase out. Chevrolet and Tesla reached this threshold rather quickly so their cars are no longer eligible.
A note on leasing: The federal tax credit is only directly available for folks purchasing a new vehicle. However, if you lease, most dealers will roll the federal tax credit into the overall price of the lease. So, if your personal tax liability is not large enough to receive the full federal tax credit, leasing a vehicle may allow you to capture the full value.
Massachusetts has a state incentive program called the MOR-EV Rebate. MOR-EV gives Massachusetts residents $3,500 off the price of a battery electric vehicle and fuel cell electric vehicles, and $1,500 off a plug-in hybrid. The price of these vehicles has to be below $50,000 and if it's a plug-in hybrid, it has to have 25 miles or more of electric range. This applies to both purchases and leases, but consumers must fill out a form on the MOR-EV website within 3 months of purchase in order to receive the rebate.
Rhode Island has a state incentive program called DRIVE EV. This program offers funding for both new and used cars. If buying a new car, Rhode Island residents are eligible for a rebate of $2,500 for battery electric and fuel cell electric vehicles, and $1,500 for plug-in hybrid electric vehicles. If buying a used car, Rhode Island residents can apply for $1,500 off a battery electric or fuel cell electric vehicle, and apply for $750 off a plug-in hybrid electric vehicle. in order to receive the rebate, residents must apply for it on the DRIVE EV website within 120 days of purchase or lease. Additionally, the purchase price must not exceed $60,000 for a new vehicle and $40,000 for a used vehicle. 
Should I buy or lease?
This question gets asked a lot, but it is up to personal preference. Here are some pros and cons to help you decide.
Pros for buying
You don't have to worry about going over a mileage limit.
You can make any modifications to the vehicle.
Most EVs come with an 8-year 100,000-mile warranty for the battery.
---
Pros for leasing
New EVs keep improving in range and technology, so leasing allows you to stay up to date
When you lease, you can capture the federal tax credit through lower monthly payments.
Specific information about different models?
We're so glad you asked that question! You can go to the electric car Shopping Tool. Drive Green has curated this tool to help folks compare cars and connect consumers with local dealerships. The tool allows you to compare costs, body style, drivetrain, and more!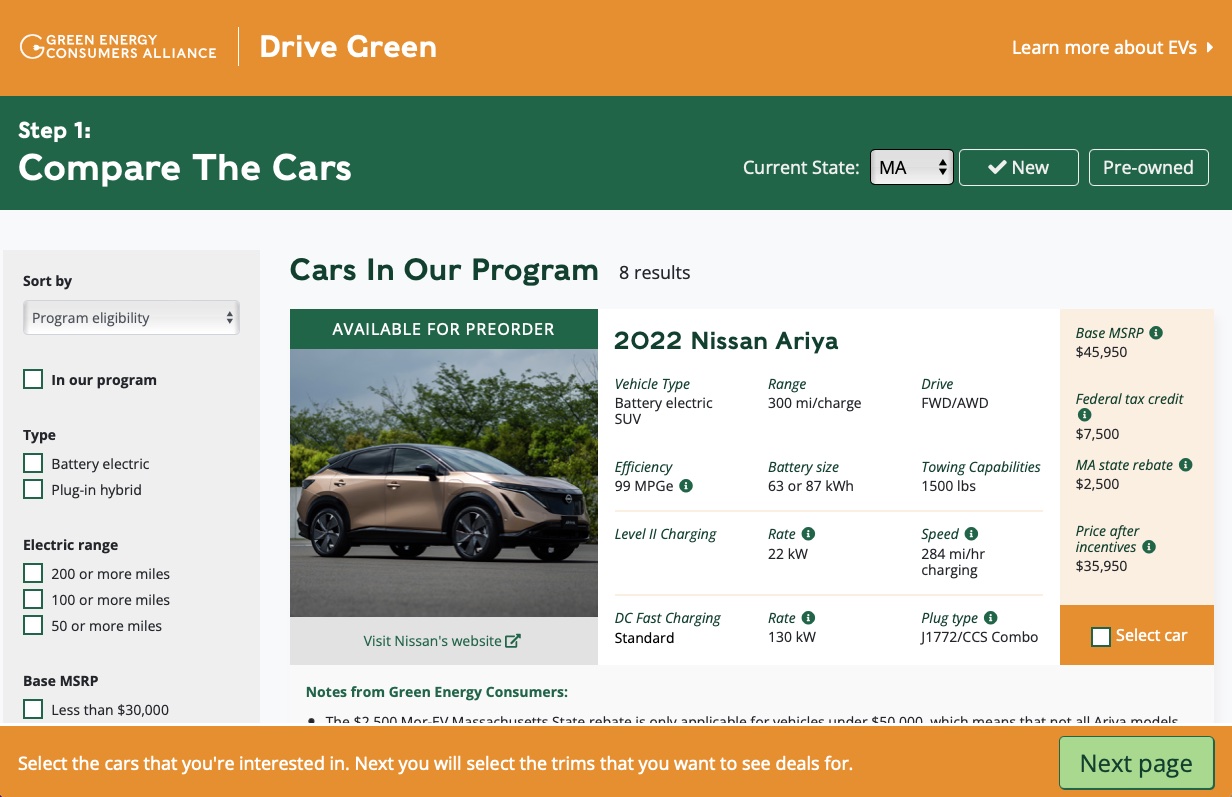 In addition to working with new cars, the Electric Car shopping tool allows consumers to compare used cars too! It does not connect folks with dealers, but helps to compare price points for certain model years, range, and other important tidbits.
If you're still looking for more information, check out Get Involved. There you can can subscribe to the Drive Green Newsletter, join the Drive Green team at an​​​​​​​ event, and become a member of the Drive Green Community Group on Facebook.