Your support, combined with the support of thousands of other Green Energy Consumers members, increases demand for renewable energy on the New England power grid, funds new sources of renewable power, and reduces our need to burn fossil fuels for electricity.
How Green Powered works
Choose 100% wind power or 25% mix of solar, wind and hydro, when you sign up. You pay a small additional amount with each electric bill. For every kilowatt hour that you use, we ensure that a renewable energy generator puts enough power onto the grid to match by purchasing Renewable Energy Certificates (RECs).
Learn about Renewable Energy Certificates
You continue to pay your electric bill as you normally would. Green Powered is automatic and seamless, included directly on your bill or billed automatically to a credit card each month. You can cancel anytime with no penalty.
The average household pays a $10-$20 per month in addition to regular electricity charges. Because we are a non-profit, that additional payment is 100% federally tax-deductible as a charitable contribution. A tax receipt is provided each January.
How to sign up
You'll need your electric account number (found on your electric bill).
To be eligible, your electric utility must be Eversource (Massachusetts) or National Grid (Massachusetts and Rhode Island).
Green Powered is also available through several community choice electricity programs in both states. When you sign up, we'll check if your community has one and help you sign up for its 100% renewable energy option.
Here is how Green Powered works for each utility or community.
I live in: MA: Arlington, Bedford, Brookline, Cohasset, Dedham, Fairhaven, Gloucester, Hamilton, Marshfield, Medford, Melrose, Millis, Milton, Rockland, Scituate, Somerville, Stoneham, Waltham, Winchester, Westford, Westwood
If you live in one of these communities, you can sign up for green electricity through its community choice electricity program. It is usually cheaper than Green Powered, and the renewable energy is still supplied by Green Energy Consumers Alliance.
Click here to choose your community & be directed to its special sign up form on its website.
You will still receive your electric bill from and pay your utility. Your community's electricity supplier will appear in the supply section of your bill.
The price will include the cost for both electrons and Renewable Energy Certificates. Because we are the non-profit supplier of the RECs, the amount you pay for RECs is federally tax-deductible as a charitable contribution, so we'll send you a receipt in January each year.
You can un-enroll by contacting your community's program at any time. Get started.

Learn more about community choice electricity, or "Green Municipal Aggregation."
or
My electric utility is:
Eversource in eastern MA (formerly NSTAR)
National Grid in MA or RI
Eversource in western MA (formerly WMECO)
A municipal electricity utility
How much does it cost
| | | |
| --- | --- | --- |
|   | 100% | 25% |
| Mix | 100% wind power from New England wind turbines (Class 1) | 25% wind power New England wind and solar, hydro and anaerobic digestion (Class 1) |
| Rate | You pay 3.8 cents/kWh you use with each electric bill (in addition to your normal electricity charges) | You pay 2,2 cents/kWh you use with each electric bill (in addition to your normal electricity charges) |
| Tax benefit | Since your payments go toward a public good, they are 100% federally tax-deductible as charitable contribtuions. | See left. |
Where does the energy come from
We are committed to purchasing only New England renewable energy from sources that meet high environmental standards. We purchase from wind, solar (not sited on green space), low-impact hydro (here's what that means), and anaerobic digester projects. Here are the current and planned sources of green energy in Green Powered.
What makes it different
We are a renewable energy certificate supplier for the public good. We do not supply electrons, as competitive electricity suppliers do. We are not a competitive electricity supplier, but we are often confused with them. Here's what makes us different.
Competitive suppliers purchase electrons on your behalf and often promise savings compared to what the utility supplies, but these savings do not last. Many competitive suppliers have been known to "greenwash", which is to market a product claiming it's great for the environment when it's not. When you buy green electricity, you want your purchase to add renewable energy to the grid over time.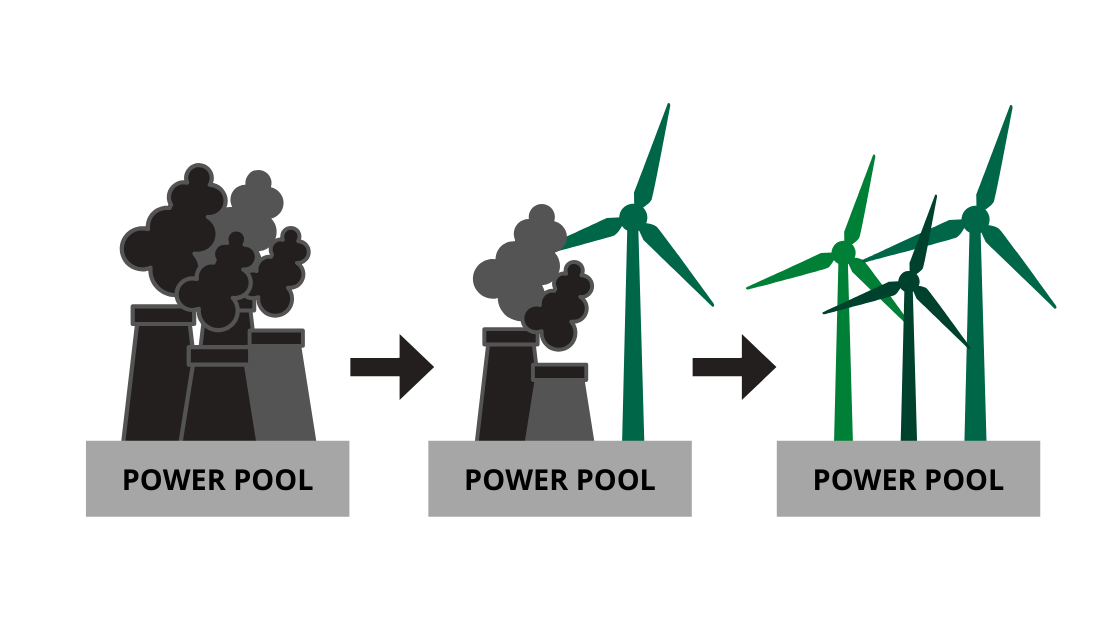 But unless you buy Class I/new renewable energy, it doesn't - instead, you are just buying renewable energy to line someone's pockets. Sadly, most "green" competitive electricity suppliers offer zero additional Class I/new renewable energy beyond what is required by MA & RI law.
We're careful to only supply Class I/new renewable energy through Green Powered. Because of this, over the years our members have made new renewable energy projects happen. That's what makes us different, and a true climate solution.
Learn more about our impact compared to bogus green competitive suppliers.