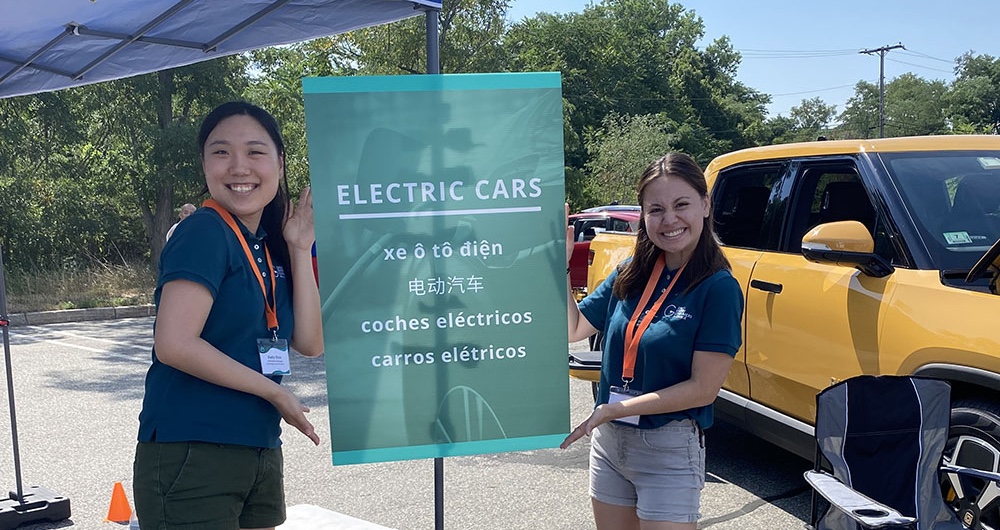 Empowering consumers and communities to speed a just transition to a zero-carbon world. But how?
Our organization developed within the context of an historically white and middle-class environmental movement. Increasingly, both our organization and the larger movement for climate justice are acting upon the understanding that we cannot reach our climate goals without aligning with both the organizing power and the priorities of communities of color. 
Our work aims to rectify the injustices of the fossil fuel economy that generated unsustainable disparities in terms of health, wealth, and well-being. We address diversity, equity, and inclusion in our work by pushing for the steepest emissions reductions, paying attention to the distribution of costs and benefits for each intervention, and focusing on relationship-building to better our work. 
We know our organization and our work is not free from the effects of systemic oppression – particularly structural racism – that impact every institution in our society. We are committed to continuing to learn and interrupt these systems in ourselves and in our sphere. 
We are engaged in implementing an Action Plan to enhance diversity, equity, and inclusion within our organization. In summary we are working on: 
a. Improving formal and informal structures within the organization to expressly support diversity, equity and inclusion within the organization. This includes allocating time for a staff DEI committee, for a variety of DEI discussions for all staff, and collaboration between the staff DEI committee and the management committee. 
b. Addressing DEI in hiring and retention of staff. This includes implementing explicit DEI personnel policies, hiring and on-boarding practices, and enhancing strategies for staff retention. 
c. Analyzing the current diversity of our program participants, working to increase the diversity of our participants and partnerships, and strengthening our ability to address DEI issues in all our programs and policy campaigns. 
We strive for a future where all people benefit from clean energy – regardless of income or race/ethnicity. On both the program and policy side, we're trying to make it easier for all people to join the push to decarbonize the grid and/or directly access the benefits of clean energy.
Our Strategic Plan addresses more ways we are weaving DEI into our organization's mission.