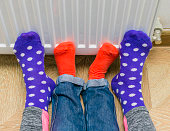 Date: February 13, 2020
Author: Green Energy Consumers
Published in our Heating Oil newsletter, Fall 2019
Price caps and fixed prices: Smoke and mirrors.
We don't offer price caps or fixed prices through our Heating Oil Service, and lots of dealers try to lure our members away with these too good to be true offers. When dealers offer you a price cap or a fixed price, they're betting against the market. And like any gambling operation, you can expect the dealer to make sure the odds are in their favor. Price caps and fixed prices rarely generate savings for consumers.
We don't bet against oil dealers. We negotiate with all our participating dealers for a sustainable profit margin, and they agree that they'll never charge members more than that margin. Our daily price varies every day because it's the wholesale price plus the dealer's fixed margin.
Pegging our member price to the wholesale fluctuations brings the biggest savings in winter, when you need the most gallons of heating oil delivered most frequently.
Budget plans: Smart practice.
Budget plans are different from fixed prices or price caps. Your dealer uses an estimated seasonal average price to establish your budget payment amount. You get the stability of paying a flat monthly rate. Either mid-season or at the end of the season, your dealer will reconcile your payments against your delivery charges – you may owe, or you may get a credit. Your statement will make it clear that you got our member price with every delivery. Members of our Heating Oil Service can take advantage of budget plans with their assigned dealers.