The proposed legislation
We want a commitment: no new gas-powered car sales by 2035 or sooner.
Every new gas-powered car that goes on the road commits us to decades of pollution.
That's why we think legislation to phaseout gasoline must hinge on the commitment of ending sales of new gas-powered cars by 2035 or sooner. Green Energy Consumers Alliance is supporting legislation in Rhode Island and Massachusetts to create a plan focused on three main principles:
we need cleaner cars;
we need to advance the market for electric buses, trucks, and fleets;
and we need to reduce the total number of vehicle-miles-travelled through better transit and bike/pedestrian networks.
Rhode Island
The Electric Transportation Act has been introduced by Senator Alana DiMario and Representative Terri Cortvriend. The legislation (H. 7653 and S. 2448) creates a process to plan for the infrastructure and other changes involving cars, trucks, and public transportation in order to meet the 2030 target, which is critical for the state to meet its 2030 greenhouse gas emissions reductions under the Act on Climate. Following Rhode Island's withdrawal from the Transportation and Climate Initiative, the bill represents a new approach to tackling pollution from transportation, the region's largest source of emissions.
Blog: Rhode Island Bill Creates Roadmap to Advance Future of Electric Transportation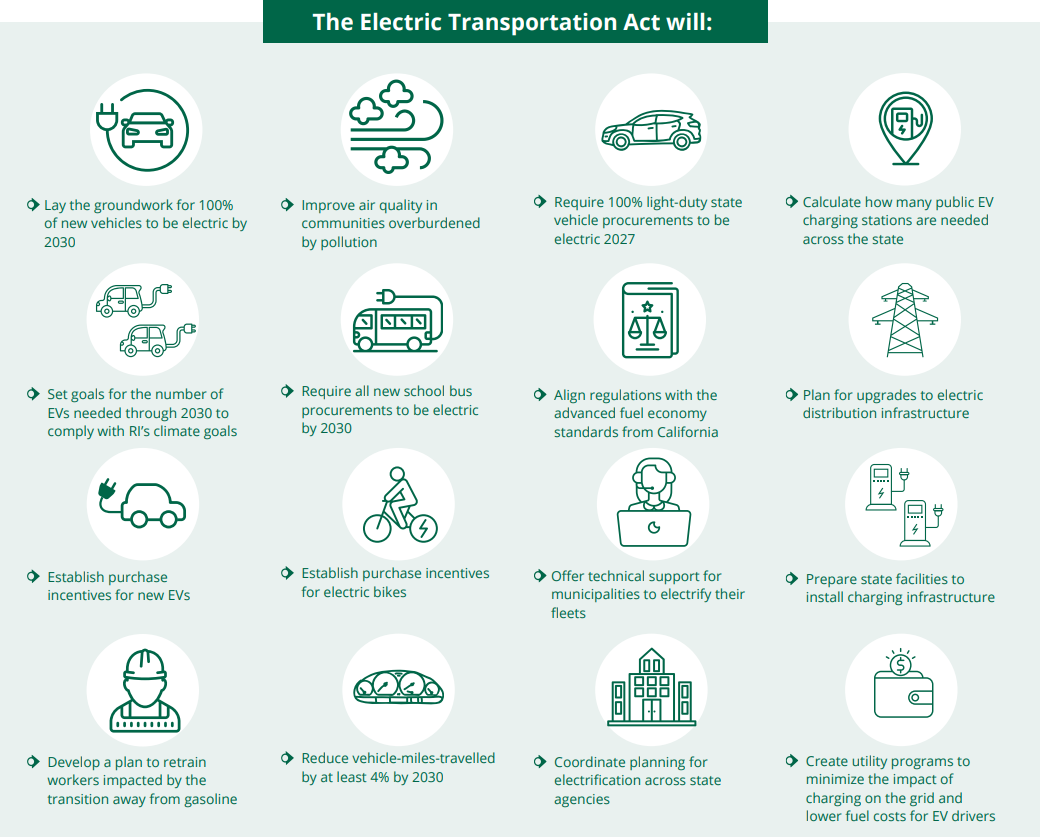 Massachusetts
The Massachusetts legislature made big news by passing a massive climate bill that tackles transportation, buildings, and our electricity supply. Now Governor Baker has the bill and we are awaiting news.
This bill is supposed to put the pedal to the metal so that the state has the policies it needs in place to achieve the emissions reduction targets included in last year's Climate Roadmap bill: first and foremost, a 50% reduction in economy-wide greenhouse gas (GHG) emissions reductions under 1990 levels by 2030. It includes a phaseout date for new gas-powered vehicle sales.
Phase-out date: Sections 28 and 58 together call for the phase-out of new gas-powered cars by 2035. This is in line with what is called for in the 2030 Clean Energy & Climate Plan and what the Advanced Clean Cars II regulations would result in. 
Blog: What the Massachusetts Climate Bill says about Phasing out Gasoline
Why it's necessary
There are lots of good reasons to support a phaseout of new gas cars starting in 2030.
Climate
Transportation is the #1 emitter of greenhouse gas, ahead of buildings and now much greater than the electricity sector. We have policies in place to decarbonize the grid, but not so much on cars.
Transitioning to electricity as a fuel source for vehicles reduces per-mile GHG emissions by 75% in New England and electric vehicles will get cleaner every year as more electricity comes from zero-emissions sources like wind and solar. 
Health
Burning gasoline releases particulate matter, nitrogen oxides, and other pollutants that directly harm human health through increased rates of asthma, emphysema, and heart disease. A report from the Harvard School of Public Health estimated tailpipe pollution caused $6.4 billion in monetized health damages in 2016 alone.
People of color and low-income people are disproportionately burdened by the health harms of gasoline, thanks to decades of planning that sited polluting infrastructure, like highways and ports, right in those communities.   
Energy independence and cost savings for drivers
Gasoline prices are soaring right now. It's not the first time and probably won't be the last time that price volatility of gasoline strains consumers' budgets. Higher costs are putting a burden on drivers and pumping money out of our states' economy.
Electric vehicles are both cheaper to fuel, saving drivers $600 a year in fuel alone, and keep our dollars in-state because electricity is a locally-generated resource. All drivers should have access to the price stability and savings of driving on electricity as soon as possible, which we can only accomplish by increasing the number of new electric cars on the road.  
Fairness
Two-thirds of Americans never buy a new car in their lifetime, relying instead on the secondhand market. New car buyers are generally higher-income individuals.
A phaseout of new gas-powered cars will only affect the purchase decisions of the wealthiest car buyers and will increase the supply of secondhand electric cars throughout the 2030s to make the benefits of EV technology accessible to all. There will still be an ample selection of secondhand gas-powered vehicles in the secondhand market after 2030 for those who aren't yet ready to make the switch.  
Transportation options
Replacing polluting vehicles with less-polluting vehicles alone will not solve the climate and equity problems of our existing car-centric transportation system. A phaseout of gasoline must be done in conjunction with an effort to reduce vehicle-miles-travelled through improvements in transit and active mobility infrastructure so that travelers have multiple low-carbon options to get around. 
Why it's possible
We can do it. For real.
To meet our climate goals – from 2030 to 2050 – we have to phase out gas cars starting in 2030. A phaseout of the sale of new gasoline-powered cars starting in 2030 doesn't mean we will get rid of gas-powered cars overnight. A 2030 phaseout would be the beginning of a multi-decade transition that will give states time to create an equitable plan for drivers of all incomes and workers in auto industry, as well as a plan to increase charging access, lower upfront costs of clean cars, and decrease dependence on personal vehicles overall.
 
Other countries, including France, the UK, and Germany, as well as the states of California, New York, and Washington have plans to end the sale of gas-powered cars.
Automakers are manufacturing dozens of electric car models and several are investing more in building electric cars than gas cars, including General Motors, Volvo, and Volkswagen. 2/3 of Americans are already considering an electric car for their next vehicle.
 
Electric cars are expected to cost the same to buy as comparable gas-powered cars by 2027.
  
Lower cost of ownership and better driving experience means that without policy intervention, half of new car sales will be electric by 2035 anyway due to consumer preference.
Our plan simply accelerates the trajectory we're already on to deliver climate and health benefits sooner. Polling shows that 62% of Massachusetts voters  and 55% of voters nationally support the idea of a phaseout starting in 2030. The national polling compared responses by race and showed that a gasoline phaseout is most popular among people of color, who are also most concerned about climate change and air pollution.  
A phaseout of new gasoline car sales in 2030 represents the beginning of a 20-year transition period where gas vehicles slowly age out and are replaced with cleaner cars. This means establishing policy to prepare for 100% EV sales in 2030 will lead to a more doable and steady transition to electric vehicles than you might think.