Pass the Climate Bill
Massachusetts
A new climate bill came out of the MA Senate on April 7th. The bill proposes landmark strides on phasing out gas-powered cars, public transit, electric vehicle infrastructure, cleaner heating, and renewable energy. Read the WBUR's excellent summary here.
Recently, nearly 300 supporters wrote to their Senators in support of stronger commitments, including phasing out gas-powered car sales starting in 2030. Stay tuned for other action alerts!
We're supporting this bill and hoping to see it through to passing this summer.
100% green electricity
Rhode Island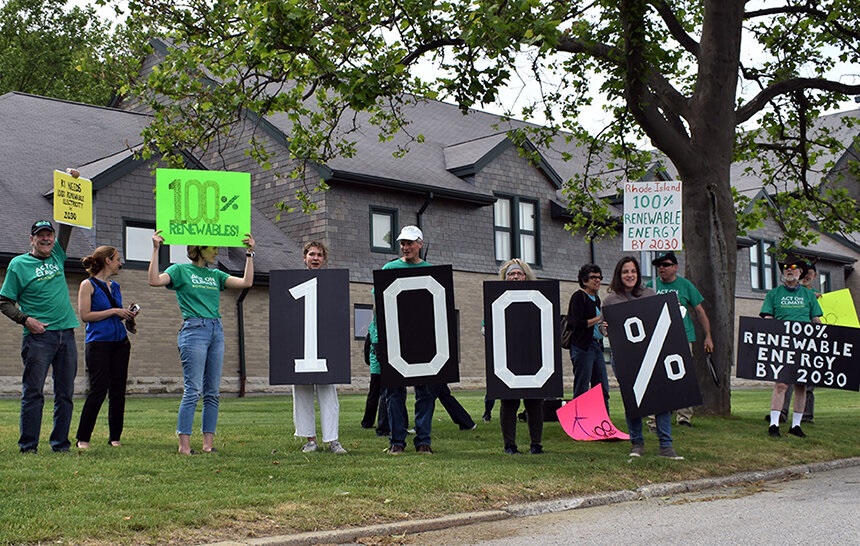 Rhode Island's General Assembly has a chance to pass legislation that would bring 100% renewable electricity to the whole state by 2030.
The bill (H7277/S2774), sponsored by Senate President Dominick Ruggerio and Representative Deb Ruggiero, would require electricity companies to deliver an increasing amount of renewable energy every year until we hit 100% of Rhode Island's electricity in 2030. This would make Rhode Island the first state in the country to hit this necessary benchmark in the path to net-zero emissions.
The 100% Renewable Energy Standard is the most cost-effective way to reduce emissions in the short-term. And it will make sure electrified transportation and buildings are powered with green electricity. We're now racing to get this bill passed before the legislative session ends in June (or sooner).
Stay tuned—we'll announce rallies, hearings, and other opportunities to support this legislation!
Phasing out gasoline
Rhode Island
The Electric Transportation Act has been introduced by Senator Alana DiMario and Representative Terri Cortvriend. The legislation (H. 7653 and S. 2448) creates a process to plan for the infrastructure and other changes involving cars, trucks, and public transportation in order to meet the 2030 target, which is critical for the state to meet its 2030 greenhouse gas emissions reductions under the Act on Climate. Following Rhode Island's withdrawal from the Transportation and Climate Initiative, the bill represents a new approach to tackling pollution from transportation, the region's largest source of emissions.
Blog: Rhode Island Bill Creates Roadmap to Advance Future of Electric Transportation
Massachusetts
There are several EV-focused bills before the Legislature. Legislators want to pass another climate bill before the end of the session, and it's our job to make sure that bill includes comprehensive language on transportation electrification. We've got some ideas.
On April 7th, the MA Senate produced a climate bill with provisions to end the sale of gas guzzlers, invest in greener public transit, incentivize driving an electric car, and build charging networks. We're excited to follow this bill to the signing, making it stronger along the way.